January 2014:
New

Ads in NYC!

Our new round of giant diorama ads are running in three New York City subway stations:

– West 4th Street
– Penn Station/34th Street
– 59th Street/Columbus Circle (Photo)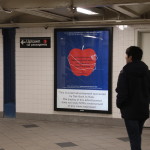 If you see one of our ads, please snap a photo and send it to info@talkbacktohate.org! We'll post it to Facebook and our website.
WHY TALK BACK?
The U.S. has a tradition of secular democracy that attracts and inspires people from around the world.
George Washington wrote to the Jews of Newport Rhode Island in 1790, "The citizens of the United States of America have a right to applaud themselves for having given to mankind a policy worthy of imitation. All possess alike liberty of conscience and immunities of citizenship."
We can be proud of those ideals — but only if we live up to them.
"EACH SHALL SIT IN SAFETY UNDER HIS OWN VINE & FIGTREE, AND THERE SHALL BE NONE TO MAKE HIM AFRAID."
– G. Washington
That means maintaining a society where people have the chance to live freely as individuals, and where no group should have to feel that they have been targeted as a scapegoat for the actions of others.
WHAT'S THE STORY?
WE'RE TALKING BACK.
In January 2013, another round of hateful anti-Muslim ads appeared in New York City subway stations. So we launched a crowd-funded campaign to represent the real spirit of our city. 250 strangers came together online to buy our own ads, and run them citywide.
SPREAD THE WORD.
You can help by telling your friends, family, and anyone else you know! Join us on Facebook and Twitter.
WHAT DOES IT COST?
With IndieGogo and PayPal fees, it costs about $6,500 to run ten "1-sheets" or five large "diorama" ads. There were about $1,000 in fixed costs.
Here's a table of income & expenses. (Invoices will be posted soon.)
WHO'S BEHIND THIS?
YOU ARE.
The campaign is being run by regular New Yorkers. We're not connected to any political, religious, or nonprofit group. Anyone can join us.
NO, SERIOUSLY, WHO RUNS IT?
OK, here's a message from the person started this project and coordinates it:
My name is Akiva Freidlin and I'm a thirty-year-old white guy who lives in Manhattan. I'm also the grandchild of Holocaust survivors who came to the United States looking for freedom, tolerance, and prosperity—and found it in New York.
The New Yorkers I know are proud to share this city with neighbors of all cultures, nations, and religions, and we reject hateful attacks that target Muslims or anyone else—so I asked my friends to help me put together this campaign.
THESE PEOPLE MADE IT HAPPEN: